Back in April I spotted an advert for a trip to Arundel Castle. As this was a site I'd been intending to visit for a while, I leapt at the opportunity to tag along with people that had already sorted out the transportation. I say 'leapt' but the advert required making a phone call, so I actually contacted the tour guide a day after the deadline. Less leaping and more stumbling. Fortunately they were happy to have me on board.
The outing, including a trip to Bignor Roman Villa and St Botolph's Church at Hardham, was put together by a little company called M & M Historic Tours. I thought it sounded promising as the name alludes to both one of my favourite candies and one of my favourite rappers. There was very little I could find online about them. And they wanted payment by cheque! So far, so historic.
(The last time I'd used my chequebook was going on for a decade ago, when I had to use it to pay a college to teach me how to do things with computers I already knew how to do, but there was no hope in hell of getting a job in Kent without this fabled 'ECDL').
The first stop was the Roman Villa. Near Pulborough, it's one of the largest Roman Villas open to the public in England, and contains some of the finest mosaics ever uncovered in Britain.
This is where I would say something about the above image if it hadn't taken me two months to get around to writing this up and I've forgotten everything I was told.
Also, a timely reminder that to clicken is to embiggen.
There was a fully conducted tour by a woman who clearly knew her stuff and loved to share it. Her warmth and enthusiasm brought the place to life.
I should explain about the photo quality. Half the point of the trip was to get me out taking photos again. I'd charged up the battery for my Nikon and left it in the charger at home, of course. So I was lugging a massive camera around and taking shitty photos with my phone, which was down to 40% battery by the time we arrived at the villa as I'd been using it to complain to anyone that would listen about me being a goldfish-brained numpty.
That was one of the longest mosaics ever discovered, until one was dug up recently that was longer. Err, facts...figures...and stuff. I really should have written this up sooner.
Winter.
Hypocaust.
That used to be a perfectly flat mosaic floor one of the previous owners used to play marbles on. Over time, damp had warped it. It's forbidden to clean it though, in case that causes further damage.
The Romans would incorporate a fault within their intricate designs in order to appease the gods. Can you spot it?
"Now, if you'd like to go through there and look at Medusa..." said the guide. "Isn't the point to not look at Medusa?" I quipped, no doubt further endearing myself to present company.
The next stop was a tiny church standing on a slight rise above the River Adur. It contains some of the most important medieval frescos in the country, covering around 80% of the interior.
Ancient graffiti, in other words
War Horse!
Buh-bye church.
Next stop: Lunch.
'This inn' being the George and Dragon at Houghton.
I'd intended to have the cheapest main on the menu, but on hearing we had to have the set two course meal priced at £20 or eat our own sammiches (which I hadn't brought), I plumped for the steak and chocolate brownie. There would be pictures but I ate those things too quickly.
I felt a pang of envy when upon leaving I saw the one woman who'd known beforehand about the sandwich option had been enjoying this view for the duration of the break.
ON TO THE CASTLE!
"At last," cries the reader. "We're sick of reading about sandwiches!"
"And the skies were made of amethyst"
and also bluethyst
#LAMFRT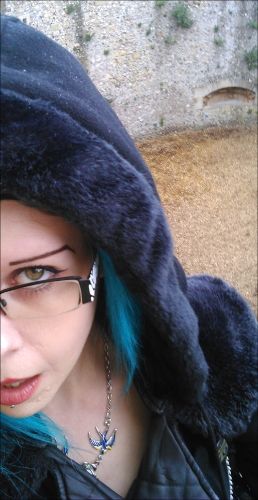 THIS PROVES I WUZ THERE
There also was a pheasant there. Honest
Wisteria hysteria
Source
Some crown randomly spinning on a fountain. As you do.